Changing display title and player language
You can change the name of your edelpaper flip book in the index tab "General".
Simply click on "Settings".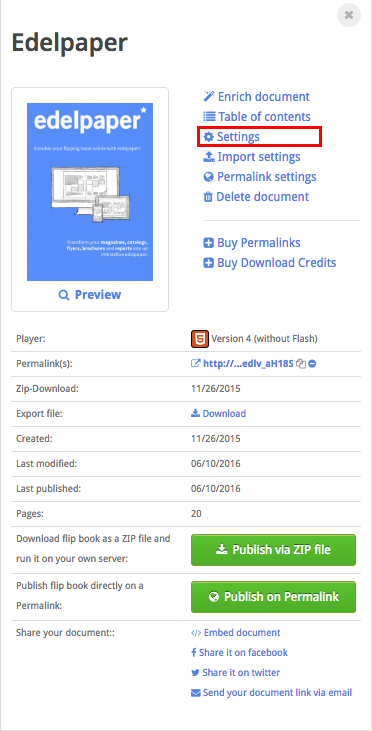 Now simply enter a new name for your flip book or click the drop-down list and select the language of your choice. Save your settings.

Related Articles

Changing the player functions

If you have created a new edelpaper, all available functions of the edelpaper player are enabled by default. To view these functions first click on "Settings". Next choose the index tab "Menubar Settings". Enable fullscreen button: If the function is ...

Creating an interactive document

To create a new document just log in to the workspace, click one of the available blue plus signs and simply drag and drop your PDF file into a free slot. For optimal results while processing PDF files, you should always use PDF files that are ...

Creating a table of contents

For each document you can create a table of contents. Here you can specify an entry for each single page. The reader can open up the table of contents of the document via the Content button. By clicking on an entry in the table of contents the ...

Where and how can I change my billing details?

Login to your edelpaper workspace. Mouse-over your name in the menu bar (upper right hand corner) and click on "Billing". A new window will open up. Click on the little arrow behind "Billing Address" and update your billing data and click "confirm ...

Customize the background image

You can upload a background image in the same way as a logo in the settings, either by clicking the background field, or by using drag and drop in the gray marked area of the field. Click on "Settings". Next click on the index tab "Appearance" and ...