How to embed an edelpaper on a web page
Use the permalink to embed the document in your website. The complete URL is displayed when you click Action <Embed document> right under the 2 green publish buttons. As a prerequisite, you need to have previously published the document.
You will be forwarded to the page were you can embed the document. In the field Permalink you can see the full URL of your published document. You can use the HTML code from the field Embed code to embed the edelpaper. Just copy and paste the embed code.
Many CMS for websites offer to insert HTML code in a post or in an HTML page template. You can choose between image, animation and link in the section format. A preview of the embedding is displayed on the right hand side.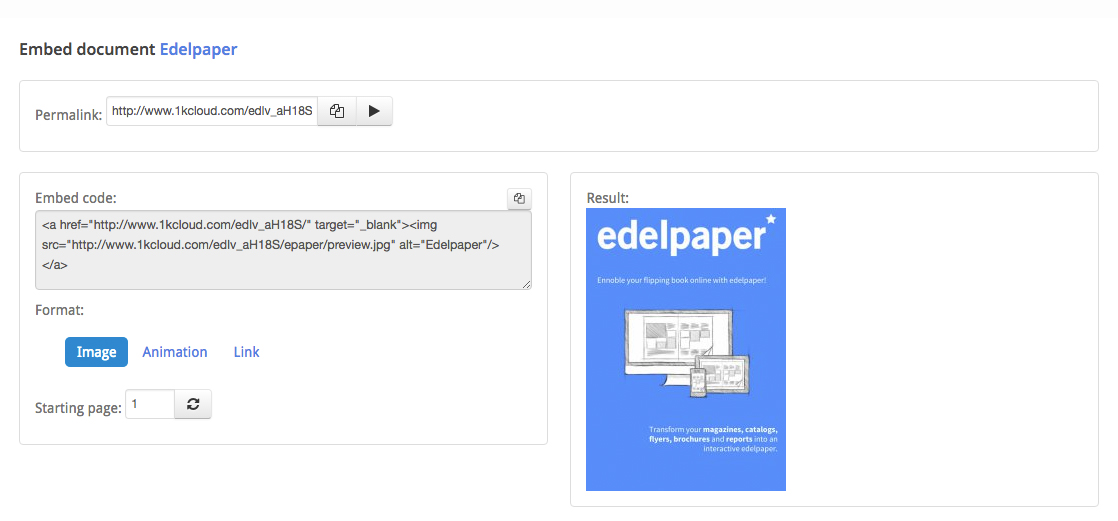 Related Articles

Which page size can an edelpaper have?

The format of an edelpaper is calculated in reference to the first page of the PDF file. However, all following pages must have exactly the same format, otherwise unwanted white borders arise in your edelpaper. So make sure that all pages in you PDF ...

Page Shadows

You can customize page shadows of your document in the "Expert Settings". If this function is enabled the display of the shadow side is suppressed in the edelpaper. The shadow effect between the sides is modeled after a book. If you flip through a ...

How to convert PDF: Double page to single pages

Often printed matter, like catalogues, magazines or newspapers, are created as double pages. That means that the content of two pages can be found at one PDF page, the order is prepared for the next steps of the printing process. To create an ...

What can I do when I notice spelling mistakes in my already published edelpaper?

You can do spelling corrections at any time in the Professional plan of the edelpaper service. Just make your corrections, upload your new file into a free Permalink slot in your edelpaper Workspace and click "publish". Our edelpaper service gives ...

Add an internal link to another document page

Another media element is a link to another page, a so called internal link. To add an internal link, click add media element and select the option add internal link from the context menu. Then fill out the form. A list of all pages opens once you ...